Take a walk on the WestSide
Innovative design shines at renovated school
There's abundant energy coming into WestSide High School these days, and not just from wiry teen-agers.
Light from the sun, known in the building industry as daylighting, is a key feature among several environmentally friendly attributes built into the new alternative school on Ninth Street in Wenatchee.
Windows around the perimeter bring ample light into classrooms. Light streams through six traditional skylights, and eight Solatubes – tubular skylights that use polished metal and Plexiglas to capture and diffuse light – outshine the LED lights next to them.
Unique LED lighting decorates the ceilings, from silver-dollar-sized LEDs in inverted-bowl-shaped fixtures to troffer hallway lights that switch off when no one's around.
Motion and daylight sensors are a key part of the energy-efficiency equation in WestSide High's construction.
"The classrooms are on occupancy sensors, and there are no wall switches in the halls," explains Bryan Visscher, director of Facilities and Risk Management for the Wenatchee School District. As daylight increases, lights dim. As sunlight wanes, lights grow brighter.
The school is cutting-edge for the district and for Visscher, who has championed energy efficiency at all 12 schools and helped the district win six EPA Energy Star awards. This time he's been able to incorporate efficiency measures from the get-go rather than retrofit old systems with new technology.
Ameresco, the environmental services company under contract to instill and install energy efficiency, will measure and verify expected energy savings.The new WestSide uses a variable refrigerant flow system for heating and cooling that reduces energy waste. Lines run throughout the building, allowing heat from a warmer side, for example, to be transferred by refrigerant to a cooler side. Traditionally the warmer air would have been ejected outdoors. The Mitsubishi system uses variable-speed fans and evaporators and sophisticated native controls to reduce energy consumption and improve comfort.
"An overlay of automated logic" runs the HVAC system, Visscher said, which offers opportunities to schedule actions such as shutting off the half of the building that's not used for night school. It's also the first building in the district to have electronic access controls for immediate lockdown in case of emergency.
The 18,000-square-foot building was once Wenatchee's Eagles Lodge. It was gutted to make way for WestSide. The building had been used by Wenatchee Valley College as a music and arts center, then acquired by the school district in a swap that gave the former WestSide building back to the college. Years ago, that building used to be college dormitories.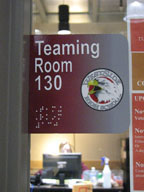 Students moved in Sept. 1, leaving cramped, concrete-block classrooms behind. They can eat their lunches, prepared in a full-sized commercial kitchen, in a spacious cafeteria now. They can access computers in an electronic library. They can work on projects together in "teaming rooms." They can go to class in rooms that are mostly windows, not walls.
P.E. classes are still held at the old campus, but an anonymous donor has offered to help build a gym on the school's north side. In the meantime, the district will begin converting the old Wenatchee Youth Circus storage building, located just west of WestSide, into a fitness building where students can use exercise equipment and free weights.