Posted in
Environment
,
Water conservation
on July 10th, 2014 by Susan –
Comments Off
Good bugs and bad bugs are the topic of a workshop Thursday, July 24 that will include a field trip to the Riverfront Park Xeriscape Garden.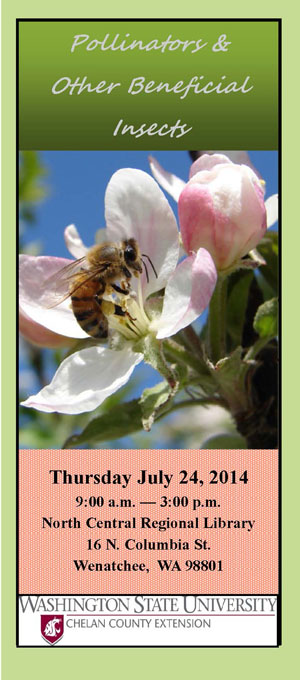 The workshop is from 9 a.m.  to 3 p.m. at the North Central Regional Library, 16 N. Columbia St., Wenatchee.
The program will focus on integrated landscape and garden management practices that support  pollinators and other beneficial insects.
Most gardens contain far more good bugs, or beneficial insects, than pest insects, said coordinator Paula Dinius. Beneficial insects and other organisms that kill pests are called natural enemies. In any pest management program, it is important to encourage these natural enemies by avoiding pesticides that kill them, she said. Gardeners can also encourage beneficial insects by choosing plants that provide them with pollen, nectar, and shelter and by keeping ants out of pest-infested plants.
Learn to identify good bugs, both in their adult forms and immature (larval) stages. If pesticides are needed, learn to use non-chemical alternatives or less toxic pesticide products whenever possible.
The registration fee is $10. Register by mailing this form to Paula Dinius, Urban Horticulturist, WSU Chelan County Extension, 400 Washington St., Wenatchee, WA 98801.
The workshop is sponsored by WSU Chelan County Cooperative Extension and Chelan County PUD.