Posted in
Renewable energy
,
Solar
on April 18th, 2014 by Susan –
Be the first to comment
About a dozen interested Leavenworth residents attended a public meeting Thursday night to learn about investing in a community solar project for Icicle River Middle School.
Faith Lutheran Church of Leavenworth has organized the effort and is the project administrator. The Cascade School Board is making the middle school available to host from 72 to 96 solar panels; the final number depends on funds raised.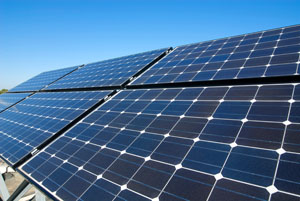 Applications to participate are open to individuals who are customers of Chelan County PUD and meet other criteria, including having a relationship with either  the church or the school district. That can be translated rather loosely, said Ellen Lamiman, the consultant who is coordinating project details. For example, attending a school concert would be considered a "relationship."
The application to participate must be mailed to the project coordinators. The application puts potential investors in a queue for consideration, based on postmark date. They'll be contacted and asked to write their checks within a few days, Lamiman said. Once a goal of $90,000 is reached, the investment opportunity will be closed.
Payments of $1.08 per kilowatt hour generated are available to investors through the state's Renewable Energy System Cost Recovery Program. The program is designed to spur manufacturing of solar modules and inverters  in Washington and to help make renewable energy systems affordable to the public. The payments come from state utility taxes — in this case, those collected by Chelan PUD — and must be made to a local entity.
The proposed 14-kilowatt solar installation would be the first community solar farm in Chelan County to take advantage of the state program, which expires in 2020 . At that time, the Cascade School District would assume ownership of the installation. 
Data monitors tracking generation from the solar panels would be available on the Internet, providing math and science opportunities for students at the middle school or other schools.
Organizers have established a website which includes information for investors. Organizers can be contacted at solarleavenworth@gmail.com.